Events Calendar
July 2022

| S | M | T | W | T | F | S |
| --- | --- | --- | --- | --- | --- | --- |
| | | | | | 1 | 2 |
| 3 | 4 | 5 | 6 | 7 | 8 | 9 |
| 10 | 11 | 12 | 13 | 14 | 15 | 16 |
| 17 | 18 | 19 | 20 | 21 | 22 | 23 |
| 24 | 25 | 26 | 27 | 28 | 29 | 30 |
| 31 | | | | | | |
August 2022

| S | M | T | W | T | F | S |
| --- | --- | --- | --- | --- | --- | --- |
| | 1 | 2 | 3 | 4 | 5 | 6 |
| 7 | 8 | 9 | 10 | 11 | 12 | 13 |
| 14 | 15 | 16 | 17 | 18 | 19 | 20 |
| 21 | 22 | 23 | 24 | 25 | 26 | 27 |
| 28 | 29 | 30 | 31 | | | |
September 2022

| S | M | T | W | T | F | S |
| --- | --- | --- | --- | --- | --- | --- |
| | | | | 1 | 2 | 3 |
| 4 | 5 | 6 | 7 | 8 | 9 | 10 |
| 11 | 12 | 13 | 14 | 15 | 16 | 17 |
| 18 | 19 | 20 | 21 | 22 | 23 | 24 |
| 25 | 26 | 27 | 28 | 29 | 30 | |
October 2022

| S | M | T | W | T | F | S |
| --- | --- | --- | --- | --- | --- | --- |
| | | | | | | 1 |
| 2 | 3 | 4 | 5 | 6 | 7 | 8 |
| 9 | 10 | 11 | 12 | 13 | 14 | 15 |
| 16 | 17 | 18 | 19 | 20 | 21 | 22 |
| 23 | 24 | 25 | 26 | 27 | 28 | 29 |
| 30 | 31 | | | | | |
November 2022

| S | M | T | W | T | F | S |
| --- | --- | --- | --- | --- | --- | --- |
| | | 1 | 2 | 3 | 4 | 5 |
| 6 | 7 | 8 | 9 | 10 | 11 | 12 |
| 13 | 14 | 15 | 16 | 17 | 18 | 19 |
| 20 | 21 | 22 | 23 | 24 | 25 | 26 |
| 27 | 28 | 29 | 30 | | | |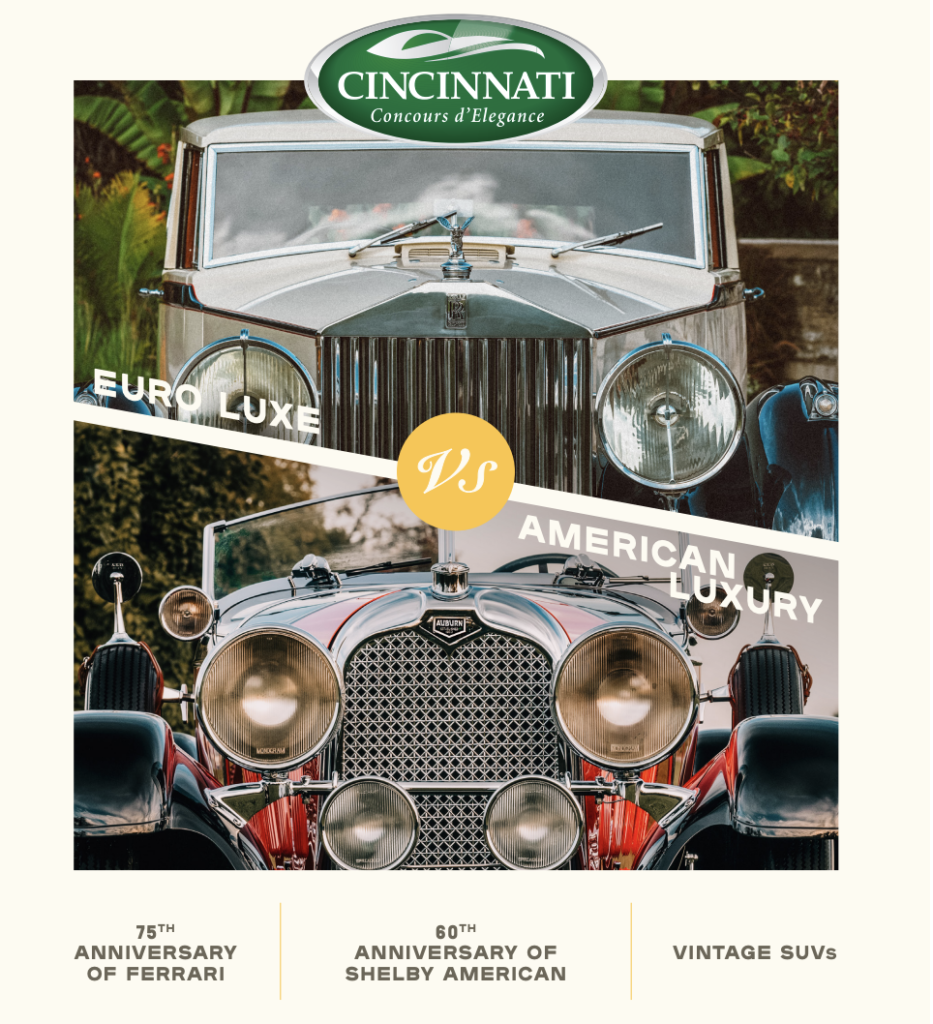 Location
Ault Park, 3600 Observatory Avenue, Cincinnati, OH, USA
Date
July 12, 2022
The 44th annual Cincinnati Concours d'Elegance is a nationally recognized event that celebrates automotive excellence highlighting exquisite automobiles and motorcycles. Vehicles are displayed in the formal gardens of historic Ault Park, with a classic pavilion overlooking the show field, hosting an automotive art show, brunch and beer garden.

The 2022 Concours d'Elegance featured theme is Euro Luxe vs. American Luxury – The Grand Marques of Two Continents'; special displays include: 75th Anniversary of Ferrari, 60th anniversary of Shelby American, and Vintage SUVs, Honored Collector, R.H. Grant, III will also be featured. A weekend of social functions precedes Sunday's Concours.

Car show pre-sale tickets purchased by Sunday, May 29, 2022 – $30.
Car show full-price adult admission – $35 adults, $15 student with ID, kids 12 & under free.
0 Members Attending this event ↵
No members have indicated they are attending yet...
Want to add yourself to the list of attendees?
Please Sign In — or Register a new account (it's free!)
event/2507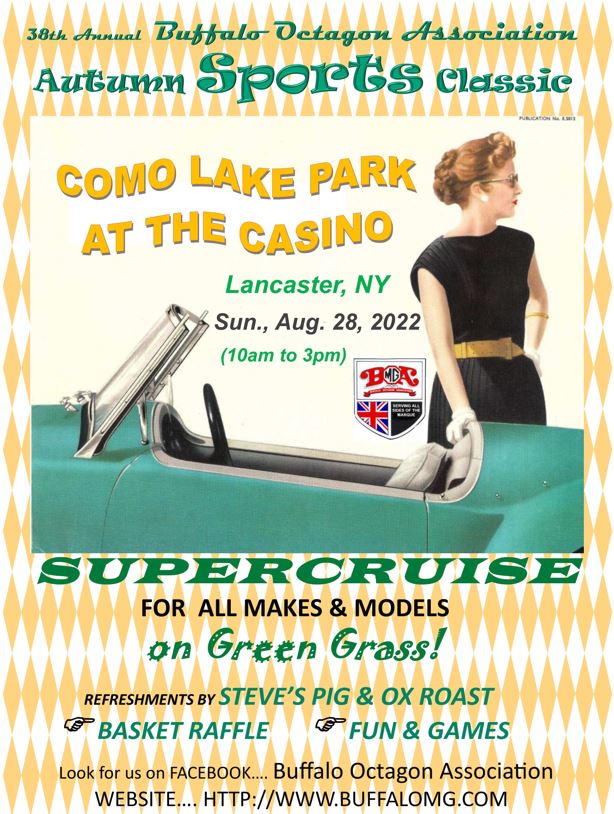 Location
2220 Como Park Blvd, Lancaster, NY, USA
Date
August 28, 2022
On Sunday, August 28, 2022, the Buffalo Octagon Association will be hosting its 38th Annual Autumn Sports Classic Super Cruise for all makes and models of sports cars and fine touring automobiles. This family oriented event will be held at the Como Lake Park Casino, 2220 Como Park Blvd, Lancaster, New York, 14086.

Cruise will be from 10am to 3pm. It is free to the public, although there is a fee for those entering a car. There will be food and beverages available, supplied by Steves Pig and Ox Roast, as well as games and door prizes for children and adults alike. We also have a 50/50 split raffle and a Chinese auction you have to see to believe!!! Bring the whole family for a day of fun! Each year a portion of the proceeds from our show are donated to local charities. Come out and join in on the fun and games and see some of the nicest classic cars in the area!
0 Members Attending this event ↵
No members have indicated they are attending yet...
Want to add yourself to the list of attendees?
Please Sign In — or Register a new account (it's free!)
event/2560